MONDAY – CLOSED
TUES-FRIDAY 10AM-6PM
SATURDAY 10AM-7PM
SUNDAY 12PM-6PM
COVID-19 UPDATE
 We have implemented precautions- Safety Dividers at Checkout
Masks NOT REQUIRED
YES, YOU CAN
COME INSIDE THE STORE!!!
CURBSIDE PICKUP  AND
SHIP TO HOME IS AVAILABLE!!
You can contact us During BUSINESS hours at
407-339-8200
Follow Us us on
Where you can Call #Dibs on Items and get them During Business Hours
Send your Wants/Requests/Lists to
OUR TRADE POLICY HAS CHANGED!! CLICK HERE
WE ARE CLOSED ON MONDAYS!!!!
DO NOT BRING IN TRADES IF YOU CAN NOT SHOP, PURCHASE REQUIRED WHEN BRINGING IN ITEMS, REGARDLESS OF AMOUNT
Welcome to Best Used Books!
We're devoted to Low Prices, Customer Satisfaction, and Great Selection. Tell us what you think. Hope to see you soon!
We have a HUGE Selection of Books, Music CDs, DVD's, Puzzles, Magazines, Movies, Comics, Toys, Vinyl Records, Graphic Novels, Manga, Collectibles and Games in over 80 categories!!
We Have Combined Over 18,000 DVD's, Blu Rays, Music CD's and Video Games!!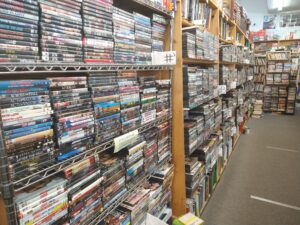 Contact us or stop by today at:
Best Used Books
880 south highway 17-92, Longwood, FL.
(407) 339-8200
Hours:
MONDAY- CLOSED
Tues – Fri: 10:00 am – 6:00 pm
Sat:          10:00 am – 7:00 pm
Sun:         12:00 pm – 6:00 pm