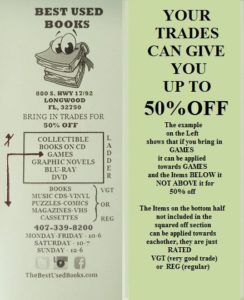 ~CREDIT IS NOT VALID ONLINE~
~IT IS ONLY VALID IN-STORE~
Feel free to bring in all kinds of things!
We accept almost anything, if we can put a price on it, we'll give you credit.
 The image may help explain visually the credit but in addition, stated below is our written policy
Our policy is as follows:
When you bring items in we credit you
50% of what WE are going to Sell it for.
Example: A Music CD that we will sell for $5.00, you will receive $2.50 in credit.
You can then use that credit towards
up to 50% OFF in store.
Example: You choose a book that we have priced $3.00, after applying your credit you will only pay $1.50 + tax in Cash or Credit Card (so we can keep the lights on)
The remainder of credit is filed in-store
under a first and last name of your choosing.
We Keep Credit on file for up to 1 year from the last purchase date.
We rate our items and separate them into categories. Not all items can be used towards each other. Some products are more common than others. Meaning a book cannot be used on collectible items such as a Star Wars Toy for 50% off. In the example pictured above, the squared off items which include:
Collectible
Books On CD
Games
Graphic Novels
Blu-Ray
DVD
they work in a Ladder scale, meaning you can apply the item towards itself and everything below it, but not above it. The reasons for this are because each one is slightly more difficult to get in than the one below it and also to keep that item in stock. Otherwise someone could bring in Magazines and wipe out our stock of DVD's, it's basically to keep things fair, that way if you bring Games in we've got Games for you to choose from.
Our rating system which includes the items below the squared off section in the picture are considered VGT (Very Good Trade) or Reg (Regular) and is applied on:
Books
Music CD's
Vinyl Records
Puzzles
Comics
Magazines
VHS
Cassettes
(the items above can be used towards eachother, meaning you can bring in a Music CD and use it towards a Book)
VGT or Very Good Trade means items that are:
Great or like New condition
Antique
New
More Desirable
Uncommon Titles
Things that will sell comparatively better than others
REG or Regular Trade items are always needed, they are:
Slightly Worn
Worn
Multiples in stock
Highlighted
Written in
slow sellers
most Magazines
most Cassettes
most VHS
VGT can be applied towards 50% off on REG Trades
but NOT REG towards VGT for 50%off.
This ensures that if you've brought VGT items in we will have VGT items in stock. It wouldn't be fair for someone to bring a worn older titled James Patterson Paperback(REG) and use it towards a Brand New Hardcover (VGT).
 ~Our Trade Credit Policy is NOT Written in Stone! We Sometimes Make Exceptions, meaning if you bring something that we absolutely need or is an awesome seller we may let you apply it towards another item that it is not usually applied towards~
 A Few Policy Additions:
1. Be Sure You Are Ready To Part With Your Stuff! Once your Trades have been Processed and Added to your Credit, They are then Store Inventory and will not be Given back. We receive Trades all day long, we calculate the credit, then the items get boxed immediately so that we can move on to the next person bringing in trades. Be ready to accept what we give you in store credit – It is not cost effective to pay our employees to calculate credit just for the customer to take their items back – we do not do appraisals
2. IF YOU BRING IN MORE THAN ONE BOX (typically a few bags or one standard size office box is one Load) YOU ARE REQUIRED TO MAKE A PURCHASE OF $5.00 IN STORE AT TIME OF DROP OFF per Box AFTER the First  
You can Drop off One Box, start a credit, and leave if you do not have time to shop, but of course, we'd love it if you did. Just remember it Expires after 1 Year with no purchases.
An example of Dropping off in Bulk is say, you bring us 3 boxes, we'd ask you to spend $10.00 that day (1st box is a given, other 2- $5.00 per box) it helps us have THINGS GOING OUT AS THAT MUCH IS COMING IN . It is also to compensate for the cost of processing your trades in "bulk" form. If you are too busy to look, we will not be able to accept your trades. We then Ask that you come back when you have the time to shop. We appreciate the understanding in this matter, we receive a lot of trades and processing them is more than half the work here at Best Used Books.
Standard size boxes only please-larger boxes may be counted as more than one Load/Box
NOTICE: Large TUBS are usually counted as 2 Loads/Boxes
PLEASE REFRAIN FROM BRINGING LARGE LOADS 20 MINUTES TO CLOSE, WE WILL NOT PROCESS IT.
This policy has helped us recycle unwanted items from customers, into items that are desired by others. All the while allowing the customer who dropped the items off to receive a discount on items they want at that moment, or later in the future.
"Turn in what you're done with, let someone else enjoy it, get what you want at half off"